"Instrumental Guitar Rock with a 1970's Vibe"
When describing the band, Ellett, says "I formed this group because of my great love for guitars and the joy I get from playing guitar. I wanted to focus on the style that was popular back in my teenage years: the 1970's. I wanted to spend more time writing melodies and stretching out as a player, pushing myself to improve as a composer and producer, trying my hardest to capture the best tones possible. And luckily, I'm working with Craig Kahn and Mark Cook, who are a great fit for this group. They are super talented, highly motivated, and really easy to work with. Craig is a really talented and aggressive drummer, and Mark is a amazingly creative bass player. Making this album with them has been really fun!"
Located high in the mountains of Topanga, California, this new group is focused on creating instrumental hard-rocking guitar music.  Utilizing a collection of 10 electric guitars and 5 vintage tube amps, their music has a traditional yet modern sound. Except for the occasional wahwah or phaser, no guitar pedals were used in the creation of this music. Just great guitars, plugged straight into classic tube amps ... and turned up unbearably loud!
"My #1 goal was to make an album that featured me wailing lots of guitar solos and playing memorable melodies," adds Ellett. "My other goal was to write really interesting and enjoyable music, surrounding those solos with lots of cool and evolving changes." He goes on to explain "I'm not trying to re-create the sounds of the '70's, but I am very inspired by the music of that era. I started playing electric guitar back in 1973, and albums like Jeff Beck's Blow By Blow and other Classic Rock records have greatly shaped my tastes in music. That's why I play in phrases, it's an older style that was popular back then. I've never written Rock songs before, and I've never made a 'Gayle Plays Guitar Solos' album, so all of this is rather new to me. And so far, I am really happy with the results!"
The band gets it's name from the electromagnetic pickups that are present on all electric guitars. These electromags capture the guitar's sound, and transmit it down a wire to the amplifier. Unique to electric guitars, they are not found on other instruments.
The album's title "Shiny Side Up" is from the common saying among motorcyclists "Keep the shiny side up!" which means "Have fun riding, and don't crash!"
In order to maintain a more lively and dynamic sound, no compression was used in the mixing of this album.
Master musician Mike Keneally (who has toured the world with Frank Zappa, Steve Vai, Joe Satriani) said of this music "Once again, what a journey! Gorgeous playing and it takes me to places I didn't expect at the top of the song - appreciate your willingness to wantonly change tempo as you see fit super fun! Yeah Gayle!"
The artwork on the album is by the award-winning artist Matt Mahurin, who has created numerous album covers for groups like: Peter Gabriel, U2, Metallica, R.E.M., Tom Waits, Muse, T-Bone Burnett, Soundgarden, Motley Crew, Def Leppard, Scorpions, Joe Satriani, Cher and many others. And he has also illustrated the cover of TIME Magazine more then 40 times.

Currently, the band is busy recording music for a 2nd album, titled "Friends", which will feature 22 guest musicians from around the world. Due for release in 2023!
The 22 guest musicians on this new album are (in no particular order):
Issei Takami & Shin Ichikawa - BARAKA - Japan 
Thierry Passan - Minimum Vital - France 
Marc Ceccotti - Edhels - Monaco 
Frederic L'Epee - Shylock - France 
Lucio Calegari - Electric Swan - Italy 
German Vergara & Juan Pablo - Aisles - Chile 
Alvarez Ortega Bianchi - Los Pencales - Argentina 
Paul Richards - California Guitar Trio - USA 
Alfonso Rodenas - Blue Dolphins - USA 
Carl Weingaren & Walter Whitney & David Udell - Delay Tactics - USA 
Dudley Taft - USA 
Barry Cleveland - USA 
Joee Corso - USA 
Aquiles Magaña - USA 
Brian Chapman - USA 
Jim Crawford - USA 
Ted Price - USA 
Bill Polits - USA
 CD now available for purchase at: www.GayleEllettTheElectromags.bandcamp.com
TRACK LIST for the album Shiny Side Up:
1     No Deposit, No Return   (6:15)
2     Highway 27   (4:14)  
3    The Old Canyon Road   (5:26)
4    Southern Slide   (4:48)
5    Hardtailed Knucklehead   (5:45)       
6   Donuts & Fishtails   (5:18)
7   Beyond The Milky Way   (1:23)
8    Brass Saddles & Steel Trees   (2:26)    
9    Three Way Switch   (5:31)
10  Crash Bar   (5:26)
11  Trail Dust   (5:10)
Total Time 52:17
All music composed and produced by Gayle Ellett 
Album art by Matt Mahurin 
Recorded in Topanga, California and Arlington, Texas

Gayle Ellett: Electric & Acoustic Guitars, Hammond B-3 Organ, Rhodes Electric Piano 
Craig Kahn: Drums  & Percussion
Mark Cook: Bass
Band Name: Gayle Ellett & The Electromags    
CD title: Shiny Side Up 
Release Date: June 2022 
Catalog Number: PSR-1-009 
Website: www.GayleEllettAndTheElectromags.com 
Licensed & Distributed by PeacockSunrise Records 
www.PeacockSunriseRecords.com
Band Bio
Gayle Ellett (Guitar & Keyboards):
Gayle has been playing electric guitar for more then 45 years, he started playing back in 1973. He is a multi-instrumentalist who has performed on over 130 albums, scored music for numerous feature films and 60 different TV series worldwide, and currently plays in 9 bands. One of these bands is Djam Karet, a Progressive Rock group formed in the 1980's that has released 20 albums so far. When he's not busy in the studio, he can often be found wandering the mountain trails near his home in Topanga, California.   www.GayleEllett.com

Craig Kahn (Drums):
Besides playing in The Electromags, Craig is recording drums for the next Kelp Dwellers' album, a Surf band  he is in with Gayle Ellett and their friend Todd Montgomery (Fernwood). Craig is also involved with a band consisting mostly of pediatric cardiology doctors from around the world, the BBSC, who donate all proceeds from album sales to pediatric health care.  Craig spends his free time running in the mountains surrounding his home in Topanga, California.

Mark Cook (Bass):
Mark is a multi-instrumentalist based in the Dallas/Fort Worth area. He has recorded and performed with the progressive rock bands Herd of Instinct and Spoke of Shadows, the psychedelic crew Liquid Sound Company, and the art pop/downtempo unit Nocturne Blue. When not chained to the recording console, Mark spends time wrangling his dogs.
Press Photos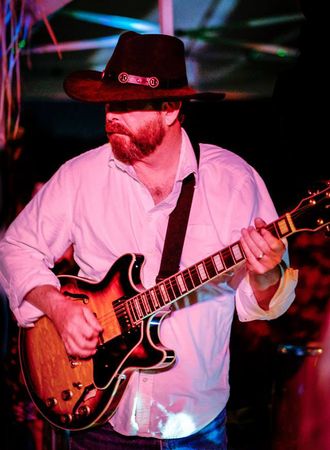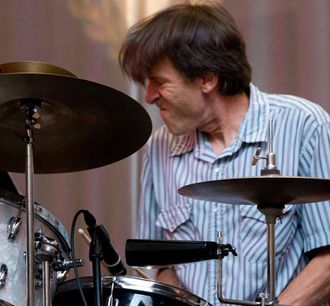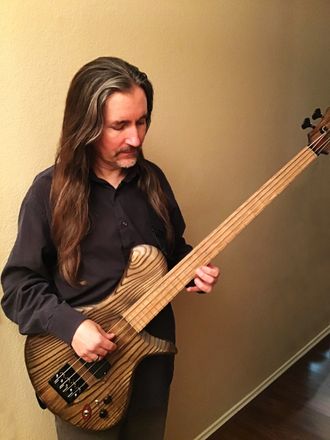 our namesake
More Guitars In The Studio ...